We write as NYC-based disability scholars and activists, living in the epicenter of the global Covid-19 pandemic, deeply aware of how this crisis has exposed the fault lines of our stratified healthcare system, especially along divides of race, class, age, and disability. In response, disabled artists and activists have summoned their expertise—and grit—in projects that foreground disability across bioethics and the arts. We address these two areas in this report from the disability front, where powerful claims on justice, displays of conviviality, and designs for remote access as well as future possibility are all emergent.
We first consider the questions raised by disability bioethics. As we have now witnessed, when crucial equipment is in short supply, the rationing of medical support—once unthinkable—becomes a reality, mobilizing disability activists who protest the re-surfacing of neo-eugenic logics. Rosemarie Garland Thomson, disability scholar, activist, and bioethicist recently queried this stark situation not only for what is occurring in the present, but for how the current choices made in the pandemic will inevitably shape what's next.
Who is permitted to live and die? Who is selected against and who is selected for in terms of the distribution of resources that will shape the community we live in together after this pandemic has passed? And it will sometime pass. I think that we would be morally foolish not to recognize that the community that we share after the pandemic is going to be shaped by the decisions that we make now. And we want to look at that from a moral and a justice perspective and not think we'll just take care of this when it's all over.
Her words are exemplary of how disability activists are using their established local and national platforms to express outrage and determination in the midst of this pandemic. This movement is not new but is finding newly powerful ways to be heard, challenging "common sense ableism." Never has the foundational slogan of the disability rights movement, "Nothing about us, without us," been more apt and urgent. On proliferating webinars, Zoom conferences (and parties), podcasts, and social media, activists have shared hard-won insights and ingenuity to remind us who counts and who does the counting in this pandemic. As data about the impacts of coronavirus in the United States reveal disproportionately high death rates for Black people, disability movements like #CripTheVote have responded with public forums on race- and class-based health disparities; the Disability Visibility Project has centered posts and attention on Black disabled work. In the wake of George Floyd's killing, these conversations have amplified into protests against police and other forms of state violence against people of color. Black Disabled Lives Matter activists have been organizing rallies and hashtag campaigns that insist on the deep entanglement of racism, ableism, and violence in American society.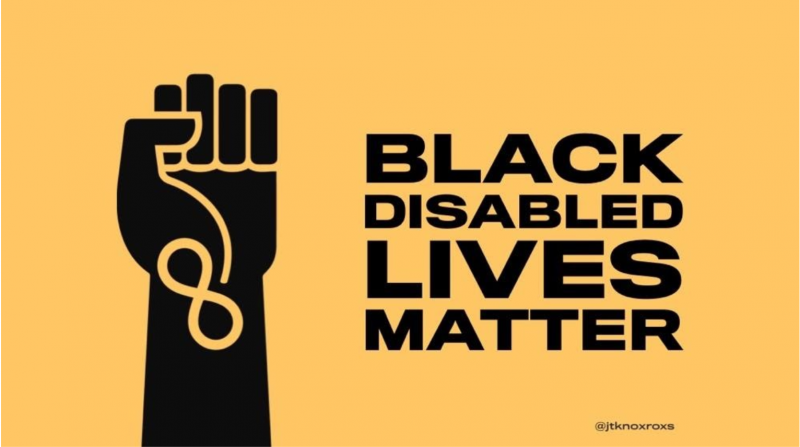 In the absence of medical and legal equity, disability artists and activists responded to the first wave of the Covid-19 crisis not only with heightened media advocacy and visibility, but with reinvention of the public sphere to come. They offer other models of resilience and innovation—from technical rejigging to mutual aid to creative worldmaking to intersectional activism—that are the life-lessons of living with non-normative bodyminds.
"Living otherwise" has long characterized the daily creativity that disability demands, whether in the staging of daily life or on stage. Consider, for example, award-winning wheelchair dancer and choreographer Alice Sheppard's call to disability creativity and collaboration with her dance company Kinetic Light's pandemic-inspired crowd-sourced project, #QuarantineShorts. On April 21, she reached out to a wide-ranging online community of fellow disabled artists, activists, and allies, asking all of us to join her in this new endeavor.

We know that many of our disabled beloveds have been severely affected by the crisis, and we are troubled by the ways that disabled people's futures are so at risk. We also know that many of you already have deep knowledge of the practices we are calling "shelter-in-place" and social distancing; we know you already know about lack of access to public space and resources. The Kinetic Light team has always been dispersed by geography, and we are now. We connect via video, continue our work, and yearn to be together in person.

While in-person activities are cancelled, we've been able to create and play a little, remotely, with what we've been calling #QuarantineShorts. We've seen creations in kitchens, in bathrooms, and outside. You have sent responses from New York City, California, the U.K., Vancouver, France, and beyond. We love them all. This project is open to all artists and creatives. Watch #QuarantineShorts contributions via Facebook or Instagram. Respond to a prompt or create your own. Tag your creation #QuarantineShorts #CreateConnectKL #KineticLight and we will share!

Alice Sheppard
Introduction to Quarantine Shorts, Accessed May 10, 2020
The Quarantine Shorts conjure a remote yet embodied conversation among disabled dancers and artists; one person offers a prompt, such as the word widen, and others respond with movement. The series offers glimpses of Black disabled life under quarantine, from the mundane to the alluring to the surreal. One short, just 24 seconds long, shows dancer Jerron Herman lying on his side in bed, staring directly and intimately at the camera, and telling the viewer in (captioned) voiceover, "A brown comfy comforter lifts up in the air above a brown skinned face." In one of Sheppard's own shorts, she dances in her wheelchair in the crook of a giant oak tree, in an open-air quarantine with wind and birdsong.
Other collective projects have brought people together online synchronously, extending the traditions of disability-centric parties. When Critical Design Lab's Aimi Hamraie and disability nightlife doyenne DJ Who Girl (Kevin Gotkin) threw "Remote Access" on March 22, they reminded invitees that "Disabled people have long used remote access as a method for organizing pleasure and kinship. We call forth our community for an afternoon and evening of pleasure activism through crip nightlife praxis and #CripRitual." The participation guide for the party took as given that Zoom is not an ideal platform; "things will not work perfectly." So some partygoers volunteered to be access doulas—to troubleshoot and accompany—alongside captioners and sound and video describers. People dropped in and out of the party, danced, tried on clothes, lay in bed, kept their video off, chatted, were alone on camera or not. On June 2, Critical Design Lab disseminated another form of solidarity guide, offering a statement on "design commitments to abolishing white supremacy," made up of eight design justice steps for recognizing racialized ableism and marshalling "disabled world-building" toward "new infrastructures and ways of living."
Still other projects offer immediate pragmatic interventions. Ninety-five percent of artists have lost significant income as a result of the pandemic, and disabled artists—already underrepresented if not outright excluded from the mainstream art market—are particularly at risk. Even before New York City shut down, a group of disabled and chronically ill artists organized "Crip Fund" on March 9 to pool money and distribute food, medicine, and other aid to "immunocompromised and disabled people in need of in-home care," noting that "QTBIPoC (Queer/Trans/Black/Indigenous/People of Color) will be prioritized." They set an initial goal of $20,000 that donors nearly tripled. Crip Fund ran through GoFundMe for just one month; in an irony of the platform, when the campaign ended, the homepage was tagged with the alert: "The organizer has currently disabled new donations to this fundraiser." While mutual aid has become one of the buzzwords of the pandemic, the intentional brevity of Crip Fund reminds that it is not enough: public institutions should not be relieved of caring for citizens and employees, and we should not enable the continued erosion of social insurance in this country. The passage of the Social Security Act in 1935 brought the U.S. (kicking and screaming) into the "modern" era of unemployment, old age, and disability benefits—in the midst of a Great Depression that left one in three residents of our own city unemployed, while "Hoovervilles" of improvised shacks sprang up in Central Park, along the riverbanks, and around NYU. Themes of debt and financial precarity are frequent in the work of the artists behind Crip Fund; these artists also ask that we attend to what is invaluable.
Yet mutual aid can be literally life-saving under pandemic conditions, especially when governmental resources are scarce-to-nil. Outside Voices, for example, is a theater company for/by people with intellectual disabilities (ID) that evolved out of a funded day habilitation program toward a far more radical critique of discriminatory ableism. Its website proclaims, "If you have come here to help me you are wasting your time, but if you have come because your liberation is bound up with mine, then let us work together." And OV's Mission Statement explains its commitment to disability justice:
Outside Voices Theater Company wish you to know the following: We are about advocacy, empowerment, out-of-the-box-thinking and disability pride. We chose our name because we believe that VOICES from the OUTSIDE deserve to be heard. We believe in access. We will not use our quiet, inside voices to get your attention.
OV's face-to-face activities of poetry-writing-turned-into-scripts for videos and live performances (sometimes, paid) quickly became an online support system as members were physically separated from one another by the Covid-19 shut-down. OV's 20+ regular members are quite diverse; some live in congregate housing, others share an apartment with supervision, still others live at home as adult children of aging parents. When the virus hit, members worried about one another. Some took the initiative to quickly add more friends drawn from other programs in which they as people with ID had met. The online group has welcomed new peers under Covid exile; remarkably, it is thriving, responding to individual expressions of distress and fear, sending texts, poems, reminders of one another's valued membership in this morphing community at a perilous time. Caregivers who accompany some OV members have also become more active in checking up on one another, managing to share apps and supplies, and contributing their poems to group readings. As one non-speaking long-time participant using his word board noted, "my inability to speak called silence now leaves me so so lonely." A deluge of support arrived as phone texts, since this valued member can't respond to phone calls, the primary connection many others were using.
Mutual support takes a different shape in an integrated professional dance troupe, Heidi Latsky Dance. As scheduled performances and commissions stopped dead in their tracks, two weekly online meetings now serve as a beacon keeping dancers together. Once a week, choreographer Heidi Latsky runs an open Zoom session based on the breathing and centering technique she developed for herself and her dancers, with diverse bodies in mind. Collective breathing exercises help everyone to stay open to new vocabularies of choreography and virtuosity. A second weekly session brings dancers and resources together: meetings have ranged from the abstract—when/why was our integrated dance 'political'?—to the practical: visits with foundation officers who suggest creative routes to resources for the arts during this sudden, financially catastrophic shut-down. Maintaining touch and courage during these harrowing times is a primary form of mutuality.
Accounting for disability expertise—from the current efforts of disability bioethicists to crip designers and artists to Black Disabled Lives Matter activists—enables everyone to learn how interdependency and claims on justice can provide models for collective practices produced from the bottom up during this protracted crisis. Disability experts also forewarn about the unequal distribution of "high risk." In a recent piece on the health risks of institutions, from nursing homes to prisons, Alice Wong states:
The systems that exist now don't have to remain the same…Safety is an illusion and privilege for the very few….(We are) one infection, medical crisis, or policy change away from institutionalization or death. This pandemic lifted the veil on what kinds of people are considered "acceptable losses" in the name of saving the economy: Black, brown, indigenous, poor, disabled, older, fat, chronically ill, and immunocompromised people just to name a few.
As founders of NYU's Center for Disability Studies, we are continually reminded of the high learning curve of the present, as we understand again and again that disability is not only an ingenious way to live; it is an ongoing set of critiques of the endemic inequalities that structure the present epidemic.
—New York City, May 13, 2020 (updated June 8)
---
Faye Ginsburg is David B. Kriser Professor of Anthropology at New York University where she founded and directs the Center for Media, Culture & History, and co-founded and co-directs The Center for Disability Studies. Author and editor of four books and many articles, she is completing a book with Rayna Rapp entitled Disability Worlds: Personhood, Everyday Life and "the New Normal" in the 21st Century.
Mara Mills is Associate Professor of Media, Culture, and Communication at New York University, where she co-founded and co-directs the Center for Disability Studies. She is a founding editor of the journal Catalyst: Feminism, Theory, Technoscience. Most recently she co-edited Testing Hearing: The Making of Modern Aurality (forthcoming July 2020 from Oxford University Press) and, with Jonathan Sterne, is co-authoring a book titled Tuning Time: Histories of Sound and Speed. More information can be found at her website: maramills.org.
Rayna Rapp is Professor of Anthropology at New York University, a co-founder of the Center for Disability Studies, and an affiliate of the College of Global Public Health. Her books and articles have focused on the politics of reproduction; gender and medicine, science studies, and disability and culture. Along with Faye Ginsburg she is completing a book entitled Disability Worlds: Personhood, Everyday Life and "the New Normal" in the 21st Century.